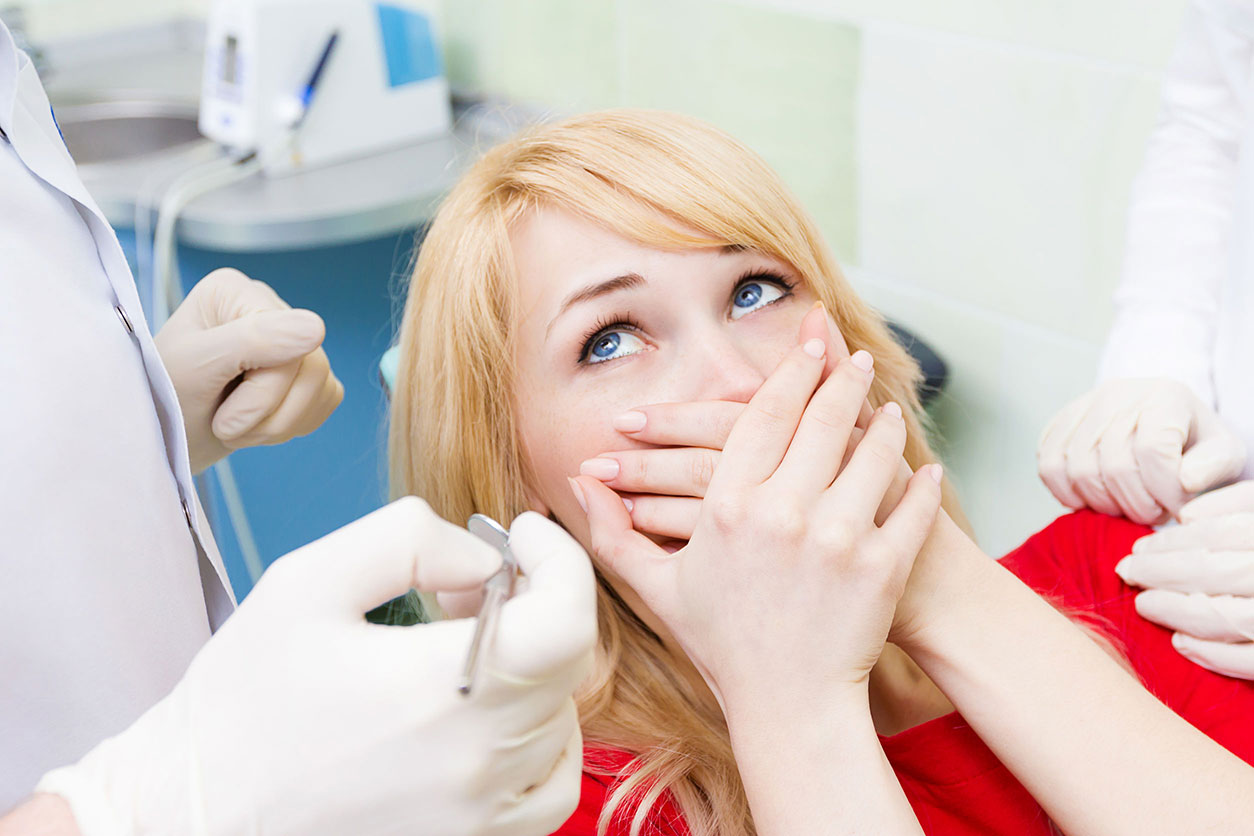 Don't be afraid of the dentist anymore
Anxiety management
Who doesn't know that little twinge in the stomach just before going to the dentist? Between the noise of the instruments, the fear of the sting or the pain, approximately 30% of the population affirms feeling apprehension before going to the dentist. For most of them, these fears go back to their childhood. This fear, until now neglected, is a reality. Traumatic experiences during childhood are sometimes at the origin of this phobia which can manifest itself by accelerated heartbeat, sweating, gagging, but also by insomnia the night before the appointment.
But the phobia of the dentist is often a primitive, inexplicable fear. The fact that today's dentist "doesn't hurt anymore" is often of little help to those affected by this phenomenon, who are often not taken seriously with their anxiety.
Not taking care of yourself can have serious consequences on your oral health and even on your health in general. More and more people say that they feel apprehensive before going to the dentist and would like a new solution to reduce their fears during treatment.
How to treat patients with anxiety?
In our practice, we offer special treatment methods that are tailored to the needs of these patients and which have proven their worth.
We have two objectives when treating phobic patients:
To carry out the patient's dental sanitation in an optimal way, without stress or anxiety.
Overcome the patient's fear and remove it permanently.
To achieve this goal, we have been using a strategy for several years that has proven to be very effective and focuses on the following themes: confidence building, no stimulation, gentle and stress-free treatments, interactive discussion of the sessions.
Building confidence in anxious patients
In most cases, people who are afraid of the dentist have had a previous bad experience with pain or restraint at the dentist's office, either as a child or as an adult.
This fear may also be due to a personality trait (anxious temperament, hypersensitivity, oppositional disorder, ADHD, autism spectrum disorder, anxiety disorder, etc.). It may be due to a mental handicap or a cognitive disorder (Alzheimer's disease, etc.).
It has been shown that patients who have experienced pain become anxious patients. And that anxious patients have decreased pain thresholds, i.e. they feel more pain than non-anxious patients.
This is why specific treatment, combining the use of an effective local dental anaesthetic and anxiety management, is necessary for people who are afraid of dental treatment. There are different solutions:
An adapted psychological approach, medical hypnosis, anxiolytic medication, sedation by nitrous oxide (or MEOPA), sedation by active substance with therapeutic effect or general anesthesia. The choice of modality is based on the patient's age, anxiety level, dental condition and health status.
Reduction of anxiety-provoking stimuli
Because of past experiences, the dental office represents a risky place for the anxious patient: we therefore take adequate precautions to reduce anxiety-provoking and stressful stimuli to a minimum at the Centre Dentaire Chêne-Bourg.
In general, all our offices are bright, spacious and light-filled. Noise and odours are avoided in the waiting area.
We make every effort to be punctual, thus reducing anxiety-inducing waiting times to a minimum. We have a varied and renewed reading to distract the patient and put him at ease.
Gentle, stress-free treatment
Gentle, stress-free treatment should be a matter of course today, and not just for the most anxious patients.
The efficiency of local anaesthesia has progressed so much that dental treatments, as well as the most serious interventions, can be carried out absolutely painlessly. A technique and anaesthesia equipment adapted to each patient, allow to give fast results in all cases, by minimizing to the maximum the pain of the needle insertion.
Our staff is trained in the proper follow-up and "gentle" treatment, and is sensitive enough to recognize the patient's needs in time, such as when the patient wants to take a break during treatment or rinse his or her mouth.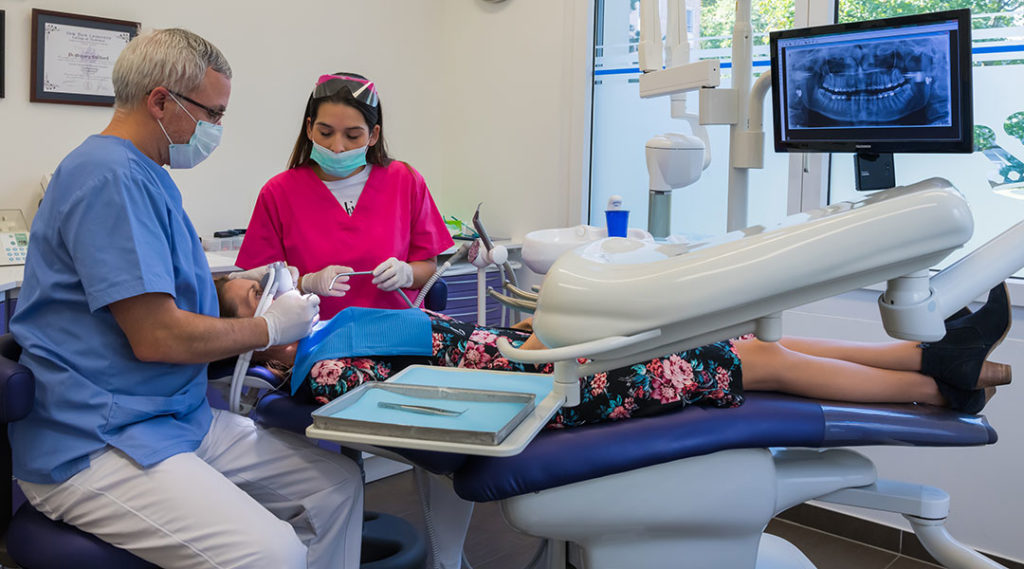 Anesthesia techniques at the Chêne-Bourg Dental Center
Anesthesia is administered to a patient before surgery. It numbs and "freezes" the nerves in the part of the body that is to undergo the operation so that the patient feels absolutely no pain. There are several types of anaesthesia: local, general or conscious sedation.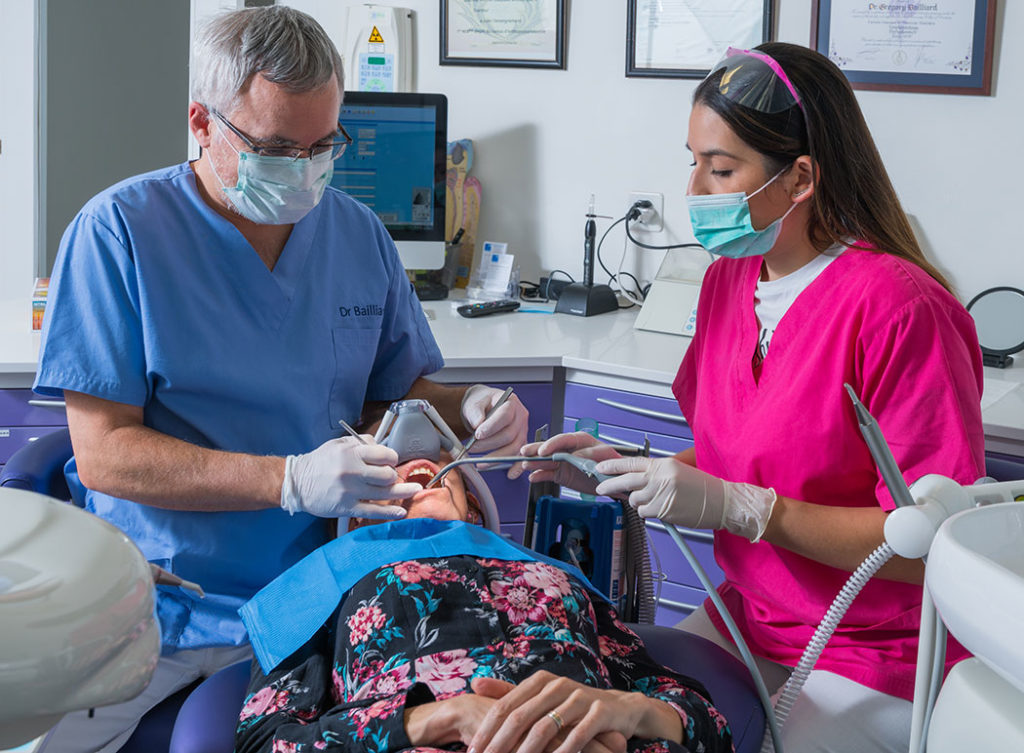 The first type, local anaesthesia, is the one most often used. In dentistry, it alleviates the pain of a part or all of the mouth, without however putting the patient completely to sleep.
In some younger patients or those with greater signs of anxiety, conscious sedation is usually used. The patient is given nitrous oxide, also known as laughing gas.
Finally, general anesthesia, which is rarer in dentistry, causes a temporary loss of consciousness. It can be recommended in certain cases, such as for the extraction of wisdom teeth or in cases of extreme anxiety.
The 4 levels of conscious sedation :
Sedation is defined as all pharmacological or other means intended to ensure the physical and psychological comfort of the patient on the one hand, and to facilitate care on the other.
Minimal sedation: a drug-induced state in which patients respond normally to verbal commands. Although cognitive function and physical coordination may be impaired, airway reflexes, ventilatory and cardiovascular functions are not affected.
Moderate sedation: drug-induced depression of consciousness in which patients respond deliberately to verbal commands, alone or with mild tactile stimulation. No intervention is required to maintain ventilation. Cardiovascular function is usually maintained.
Deep sedation: drug-induced depression of consciousness in which the patient cannot be easily aroused but responds deliberately to repeated or painful stimulation. Patients may require assistance in maintaining ventilation. Cardiovascular function is usually maintained.
General anaesthesia: drug-induced loss of consciousness during which patients cannot be aroused even by painful stimulation. The ability to independently maintain ventilatory function is often impaired. Cardiovascular function may be impaired.
This classification of sedation is described schematically because in reality it is a continuous process in which the transition from one level of sedation to another is only a function of the dosage of the drug used.
Discover also the treatment of anxiety at Champel Dental Center